Chellaram's 5th International Diabetes Summit overviewed on the growing menace of Diabetes and its complications.
Three- day International Diabetes Summit recently held virtually by Chellaram Diabetes Institute.
Over 5300 physicians and researchers have registered to partake in the three-day event and over 100 national International speakers delivering talks on the critical aspects of Diabetes care.
50 young researchers presented posters and free papers to win the "Chellaram Foundation Diabetes Research Award. The awards had been divided into 4 types of totals Rs 3 lakhs.
People with Diabetes participated in a Virtual 3-km marathon organized by Chellaram Diabetes Institute with the collaboration with Blue Circle Foundation.
Chellaram Diabetes Institute organized their 5th International Diabetes Summit 2021 to tackle Diabetes and identify practical ways to tackle the growing menace of Diabetes and its complications. Dr Soumya Swaminathan who was most recently WHO's Deputy Director-General for Programmes graced the inaugural function as Chief Guest and Guest of Honour respectively. She is a paediatrician from India and a globally recognised researcher on tuberculosis and HIV; she has over 30 years of experience in clinical care and research and has worked throughout her career to translate research into impactful programmes.
Summit covered majorly on pandemic diabetology and telehealth, advances in diabetes care, cardiovascular diabetology, glucose monitoring and new markers, intelligence in diabetes management and workshop on diabetic retinopathy.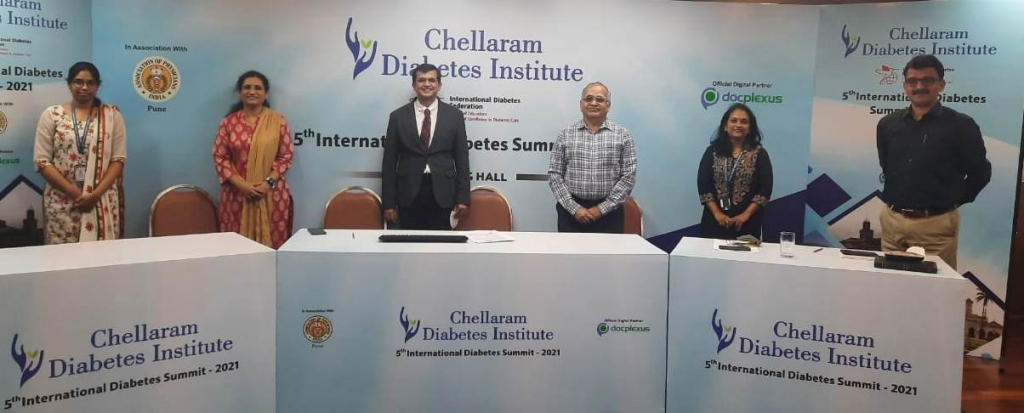 Mr Lal L. Chellaram, the Patron of the 5th International Diabetes Summit 2021 and the Chairman of Chellaram Diabetes Institute, said the vision and inspiration behind starting Chellaram Hospital – Diabetes Care and Multispecialty, the various feats achieved by the organisation through rural education and medical care programmes, patient education magazine Diabetes Health and research and future aspirations of the hospital and ventures for creating a holistic Diabetes care environment.
Dr Unnikrishnan AG, the CEO and Chief Endocrinologist of Chellaram Hospital – Diabetes Care and Multispecialty said that "The need for a preventive healthcare regime rather than curing disease .Also discussed how the COVID pandemic has brought a positive shift by enabling the physicians to provide remote and digital healthcare practice. He was very happy sharing overwhelming response to this year's Virtual Conference.
Dr Anil P Pandit, Chief Medical Director at Chellaram Hospital informed the gathering about the need for scientific research to explore new possibilities in Diabetes treatment. To encourage scientific research in India.
Dr V Mohan, a Padma Shri Awardee, Chairman and Chief Diabetologist of Dr Mohan's Diabetes Specialities Centre and President and Director of Madras Diabetes Research, talked about the rising numbers of Diabetes incidence in India and encouraged the doctors to counsel patients on having a healthy body and parameters rather than treating each condition individually.
About Us:
Chellaram Diabetes Institute, a part of Chellaram Hospital – Diabetes Care and Multispecialty is a premier organisation located in Pune with expertise in Diabetes care, education and research. Each year, Chellaram Diabetes Institutes organises the International Diabetes Summit for physicians, researchers and Diabetes educators practising in India and worldwide to discuss the latest happenings in the realm of Diabetes and its related health complications. Several nationally and internationally acclaimed Diabetes experts come together to impart knowledge on Diabetes care and research and pave the way for future research and study.